TEMPLATE NAME: Voxel Model
CORE VERSION: 1.10.3
TEMPLATE VERSION: 1.0.0
TEMPLATE DESCRIPTION:
To use this template, creators must download CoreVox. CoreVox is a tool that allows users to convert MagicaVoxel (.vox) files to code that can be pasted and run in Core.
Download CoreVox below:
Instructions: In CoreVox, click the IMPORT button, and locate the .vox file that you would like to import into Core. Once the model is successfully imported, click the COPY button to copy the lua code into your clipboard. In Core, paste underneath the commented text in the 'Generate Voxels' script. Then run to see your very own voxel model in Core!
TEMPLATE ROADMAP:
Dynamic Collisions and Performance Optimizations coming very soon!
TEMPLATE VERSION NOTES:
2020-12-11 - v1.0 Inital Release
MEDIA: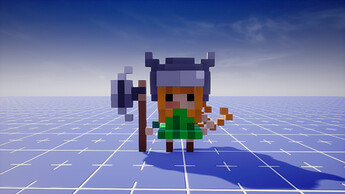 ADDITIONAL INFO:
Use this topic or the community board on the CoreVox itch.io page for any questions regarding the project.