TEMPLATE NAME: Online Player Display
CORE VERSION: Unknown
TEMPLATE VERSION: 1.2.0
TEMPLATE DESCRIPTION:
Displays players currently online, as well as their health. The base version of this template supports up to 8 players. If you want more than that, you'll have to edit the script a bit.
This is a generalized version of the player list used in World of CoreCraft.
Features:
A list of online players that can be toggled open and closed
A player info display with some blank fields that can be used for other stats
Framework for having multiple tabs in the display (though this will require some code setup)
TEMPLATE VERSION NOTES:
V1.2.0 - 1.28.2020
-Minor fixes.
V1.1.0 - 1.28.2020
-Cleaned up isVisible deprecation warnings.
V1.0.0 - 1.27.2020
-Initial publish.
MEDIA: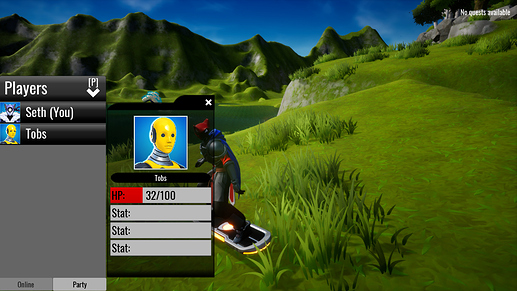 ADDITIONAL INFO:
If you have any requests or issues with this template, please feel free to ping me either here or on Discord