GAME NAME: Trick or Treat Town
PLAYER COUNT: 1-16
CORE VERSION: 1.0.83
GAME VERSION: 1.6
GAME LINK: Trick or Treat Town by ChimericArts - Core Games
GAME DESCRIPTION:
Collect candy, buy a home and decorate it to delight (or horrify) your trick or treating friends! Or you could spend all your candy to toilet paper and egg the neighborhood ;p Happy Halloween!
GAME VERSION NOTES:
*The Gingerbread Update is out!
-Added Possessed Snowman Piñata and collectable set
-Added ability to decorate your yard! Not all items are compatible
-Added 3 Gingerbread houses with interiors
-Added 4 Candy lights
-Added many many candies to decorate with
-Added a candy store with Gingerbread Skelly shopkeeper
-Added the ability to buy additional rooms with Credits or candy
-Added Limited Edition Holiday 2020 Xmas Zombie Bear Perk
-Redecorated the environment with snow and Christmas stuff!
-Fixed bone sound on sidewalks
-Removed Possessed Turkey Piñata, they will visit again next fall!
MEDIA: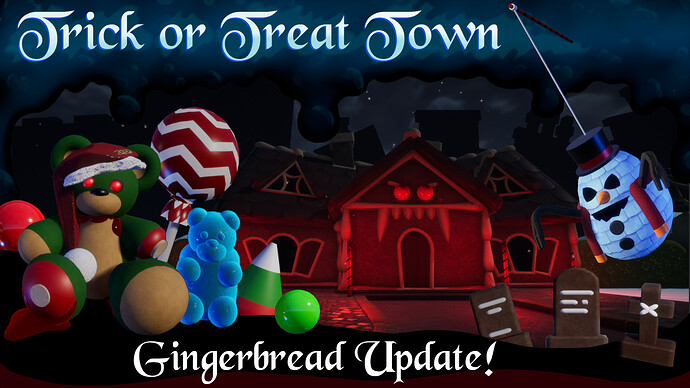 ADDITIONAL INFO:
Feedback and constructive criticism is always welcome! Let us know what you think of the game