GAME NAME: THE YEAR TWENTY TWENTY
PLAYER COUNT: 1 - 16 players, there is a portal to a solo player mode and a portal to a multiplayer mode
CORE VERSION: 1.9.9
GAME VERSION: v1.0.4
GAME LINK: The Year Twenty Twenty by WizzMou - Core Games]
GAME DESCRIPTION:
*A game based on the year 2020 combined with a old school custom game from Warcraft 3 Frozen throne called warlock, you and your team have to avoid damage or being knocked out of the arena and get kills to score points to win.
You are part of a military science experiment to cure Covid-19 posted in a remote location in Australia, you soon discover that you are surrounded by raging fire and that there is only 1 rescue Helicopter on its way unfortunately there is limited space and only 1 team will make it out alive.*
GAME ROADMAP:
*More features to be part of the next update:
Pay your respects to the fallen of 2020.
Long term Leader boards.
Some Covid-19 gear.
Update Spell icons and affects.
New Ultimate skill to replace the meteor.
Your camera will follow the trucks driving into the arena.
Victory screen will follow the helicopter as it flies out.
Single player mode.
and more.*
GAME VERSION NOTES:
*V1.0.4 - Nov 30, 2020
Single player is added but for now only provides exploration and a bunch of skele out to kill you.*
MEDIA:
THE YEAR TWENTY TWENTY - YouTube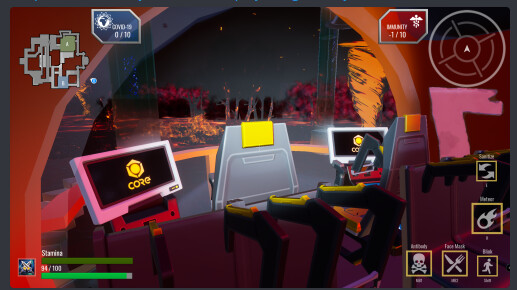 ADDITIONAL INFO:
*Shoutout to the following CC and thank you for sharing your work!
VOID STEP -Morticai - Used template as a guideline to my blink.
Tutorial UI - Gabunir
Simple Player Data - NicholasForeman
KingdomFallScoreboard - logicgames
Icy Sheet & Conveyor Belt - togagames
Helicopter- Spinner - used his template as a guide.
Be carefull where you blink, you will die if you blink out of bounds.
Military Vehicle - Antropy - used his template and will customize it.
Radar Template - Robotron - used his template.
Power Armor MK I - Antropy - Will use his template as a guide.
Minimap UI - StandardCombo- Tested the template will be removed soon.
If you pick up a community asset that I have missed please let me know.*