GAME NAME: The Mysterious Gift !
PLAYER COUNT: 1
CORE VERSION: 1.9.9
GAME VERSION: 1.0.25
GAME LINK: The Mysterious Gift ! by Haaley - Core Games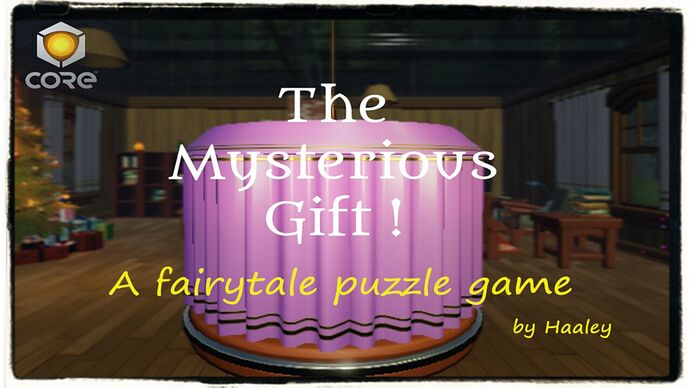 GAME DESCRIPTION:
Discover the secret inside the secret, inside the secret, inside the secret ... and enjoy a polished christams project.
First chapter of an "inside the secret box" game. With the current update you will find the first chapter of the puzzle. Do not hésitate to support me by playing the game, like it and tell about it !
Initialy based on december fairy and some tries for handling 3D object with the mouse, "The Mysterious Gift" became a true project wich demand me serals weeks of fine tuning.
Thanks for the "environnement art" assets i used (aurora, chalet, bear, toys, lamp, scroll or some furniture), all the code logic, UI and controls are done by me.
Enjoy !
Haaley
Learn more, discuss, bug report : Nebula
GAME ROADMAP:
February/March (or April ?) 2022 :
Chapter 2
Italian and maybe other languages
GAME VERSION NOTES:
January 2022 the 27th : public launch on Core : (1.0.25)
ADDITIONAL INFO:
Technically, I tried to bring something different: both something new and something that tries to push the canvas given by Core. Artistically, something neat, polished and (roughly) beautiful. It's not multiplayer, not action, so I hope it will interest the curious because the intention is elsewhere...