GAME NAME: The Beans Have Had Enough
PLAYER COUNT: 1-6
CORE VERSION: 1.9.9
GAME VERSION: 1.0.7
GAME LINK: https://www.coregames.com/games/c61f78/the-beans-have-had-enough
GAME DESCRIPTION:
The beans have had absolutely enough of this bean-eating nonsense. Wreak havoc on the town by consuming all the things! Become the biggest bean in town to win!
Made for Bean Jam 2021.
GAME ROADMAP:
GAME VERSION NOTES:
log of your game's version notes, copy from game page. example:
1.0.0 - Initial release
1.0.1 - Fixed soft lock due to lack of consumable items, Fixed scaling equations so the game is actually playable, Fixed max player count being set wrong
1.0.2 - Removed testing assets and incorrect spawn point
1.0.3 - Fixed players not reseting after round end
1.0.4 - Forgot to reset Round Duration from debugging last patch, fixed
1.0.5-1.06 - Fixed numerous issues that occured when another player left the game (game would break), Fixed player size not resetting after round ends
1.0.7 - Silly old me forgot to reset the round duration again oops
MEDIA: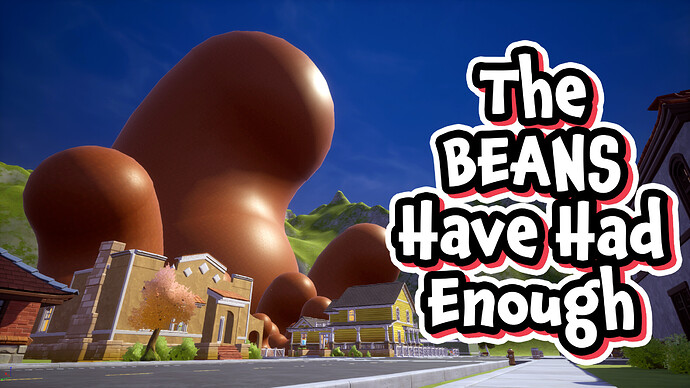 ADDITIONAL INFO: