GAME NAME: Symphony of Mayhem
PLAYER COUNT: 1-8
CORE VERSION: 1.9.9
GAME VERSION: 1.0.11
GAME LINK: Symphony of Mayhem - Alpha by KoalaEsper - Core Games
GAME DESCRIPTION:
This is a tech demo for a multiplayer co-op class based rhythm shooter.
I have implemented a system where when certain objects are hit, the game will keep track of what was hit, and produce VFX and audio.
For now there is a single playground area for some jam sessions.
GAME ROADMAP:
First planned update is to make an instance for a shoot and chill Piano world.
Player will be able to enjoy classic Piano songs.
Once I have a world with a few songs, the next step would be to implement a Music Sheet module to specify what the targets the players should be hitting. There will be an accompanying dance floor world that randomly goes through songs, and each gun type will get different targets to hit.
Next update after that will be for the other classes. First up will be a glow stick ninja that dual wields glowsticks to hit targets. This class will emphasize movement.
GAME VERSION NOTES:
1.0.11 First public release.
MEDIA: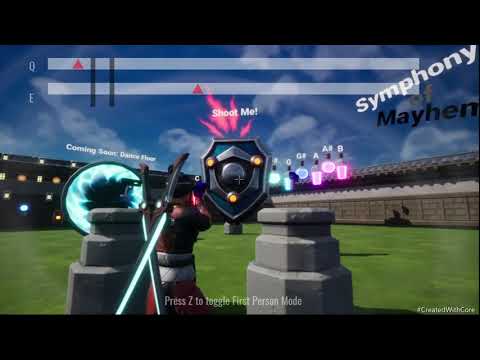 ADDITIONAL INFO:
Have fun with friends.