GAME NAME: Rotation Nation
PLAYER COUNT: 3v3
CORE VERSION: 1.9.9
GAME VERSION: 1.0.0
GAME LINK: * Rotation Nation by boxlanepro - Core Games*
GAME DESCRIPTION:
*HOW TO PLAY
Each round a new miniverse is generated using AI, in the center of each miniverse is the capture point, take control with your team and reach 200 points to win the round. For every kill while controlling the capture an additinal 2 points are added to the capture progress. Around the edge of the map the containers will reveal upgraded weapons which reset on respawn. Enjoy and good luck!
BONUS FEATURE
The Box Lane Capture Hat is rewarded each round if you've had zero deaths and captured the midpoint for the first time. With a Box Lane Capture Hat you'll earn double XP and you'll lose the hat when someone kills you or when the next round starts, see if you can survive whole round without loosing your hat!
*
GAME ROADMAP:
There will be regular maps added including premium map packs, and matching advanced weapons for each theme in a future update
GAME VERSION NOTES:
1.0.0 - Initial release including 6 miniverses
MEDIA:
*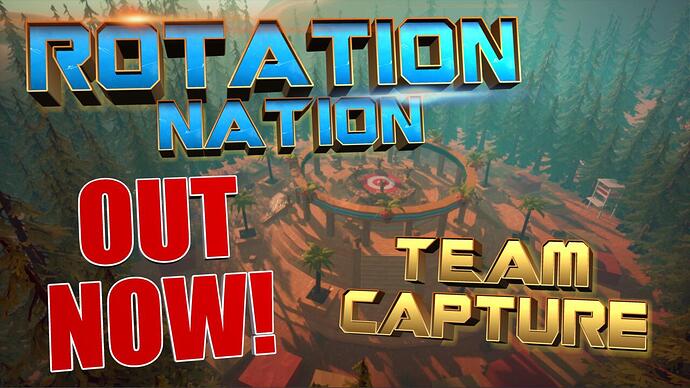 *
ADDITIONAL INFO:
*Please let me know your feedback and ny ideas you have for themes you'd like to see and im also on Core Discord - @Barj
A big thank you to all the creators who helped bring Rotation Nation to life:
Eskil
Fleshy Overloard
VargylBargyl
Puppy
Insertyourself
WaveParadigm
Bigglebuns
Team META
Morticai
Slinkous
Deadlyfishes
Gambit
vabyz971
Daddio
Staypunny
Tobs
AkwardGameDev
Ripper
and everyone from the Core Discord community who supported and helped with testing
Hope you enjoy playing and things to come!
*