GAME NAME: RIP & TEAR!!!
PLAYER COUNT: 2-8
CORE VERSION: 1.9.9
GAME VERSION: 1.0.27
GAME LINK: RIP AND TEAR by Ali107
GAME DESCRIPTION:
You don't know why you're here and who you are, all you know that you must Rip & Tear, until it is done! This is basically DOOM.
Remember, sprinting is key to not get killed...
Controls:
WASD to Move.
Left Shift to Sprint.
Left click to shoot.
Right click to Aim.
R to Reload.
Space bar to jump.
Q to switch Weapons.
Press Tab to view Kills Leaderboard.
GAME ROADMAP:
Make the game as entertaining as possible, maybe I'll add different types of demons, or add more weapons
GAME VERSION NOTES:
Added Giant Demon Skeleton fossil in the play area.
Adjusted the location of the triggers that spawn the Demon Skeletons.
Fixed a bug where the leaderboard wasn't showing all top 10 in one leaderboard.
MEDIA: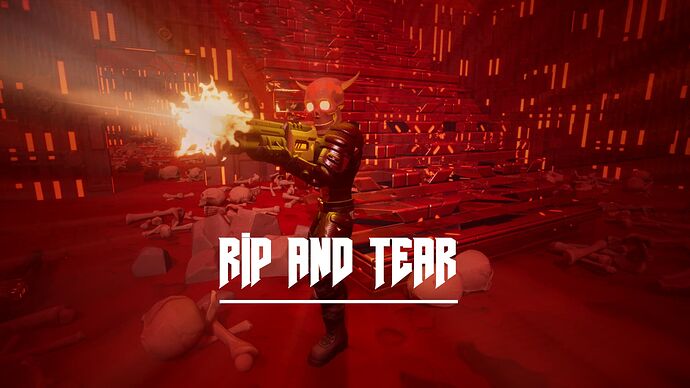 ADDITIONAL INFO:
sup.