TEMPLATE NAME: Quick Weapon Switcher with Perk
CORE VERSION: 1.10.3
TEMPLATE VERSION: 1.0.0
TEMPLATE DESCRIPTION:
Based on version 2.0 of Buckmonster's Quick Weapon Switcher
Modified to include a perk that unlocks a weapon to purchase.
In the default version, locks rocket launcher (weapon no.5) under perk purchase.
Has a popup menu to display the perk purchase.
Works with limited time and permanent perks
IMPORTANT NOTE AND DISCLAIMER
Please note that this is offered as-is and the code may not be updated by me regularly.
I will strictly not be entertaining any update requests. I am not responsible for how you implement perks in your game.
You are personally responsible for the perks you implement. Please implement perks with care and treat players fairly!
CAVEAT: I have not personally tested it in a live game with perks enabled. Use this at your own risk.
Please read the README
Also
Please read core documentation on Perks
MEDIA: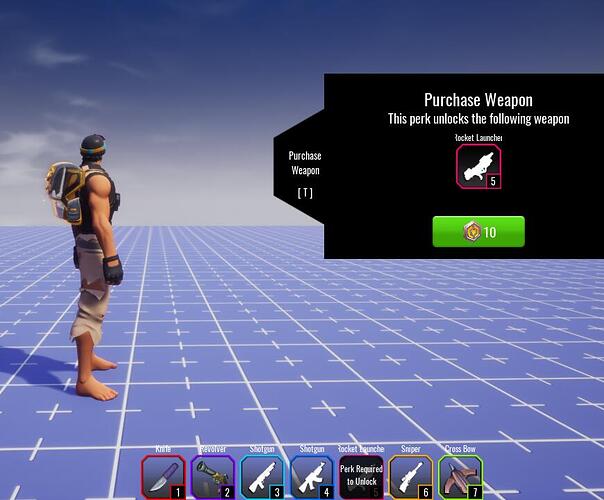 Thanks again to Buckmonster for the original weapon switcher script!