GAME NAME: Jumping Simulator
PLAYER COUNT: 8
CORE VERSION: Lastest
GAME VERSION: 1.7
GAME LINK: JUMPING SIMULATOR | COSTUMES by Zinks - Core Games
GAME DESCRIPTION:
Just press space to jump! You make coins by jumping! Buy with coins you maked to buy jumps that will be encrease you jump count also buy velocity with jumps for a higher jump!
GAME ROADMAP:
--GAME VERSION 1.7--
--UPDATES 1.7--
ADDED ZONE 5
CHANGED THE ENTIRE MAP DESIGN!
NOW WHEN YOU TELEPORT YOU STOP JUMPING!
CHANGED THE PLAYERLIST ( TO DEFAULT )
ADDED SOME INFOMATION IN LOBBY!
--UPDATES 1.6--
ADDED IN PLAYERLIST YOUR STATUS
ADD ACHIVEMENT SYSTEM
UPDATED THE ECONOMY!
--UPDATES 1.5--
NOW YOU CAN MAKE MONEY BY JUMPING (100 $ FOR EVERY JUMP)
ADDED HOW MANY JUMPS YOU HAVE LEFT
ADDED MAKING MONEY WHILE JUMPING!
FIXED SOME BUGS
LEVEL 1 - 100$ PER JUMP
LEVEL 2 - 200$ PER JUMP
LEVEL 3 - 300$ PER JUMP
LEVEL 4 - 400$ PER JUMP
LEVEL 5 - 500$ PER JUMP
LEVEL 6 - 600$ PER JUMP
--UPDATES 1.4--
ADDED A NEW COIN (200$ COIN)
ADDED A NEW ZONE (Zone 4)
YOU CAN TELEPORT TO ANY ZONE AFTER YOU REACH THE ZONE
UPDATED THE TELEPORT MENU
CHANGED THE ECONOMY (NOW YOU CAN MAKE JUMPS AND VELOCITY MUCH FASTER)
ADDED 4 FLYING COSTUMES AT ZONE 4
LOWERED THE WINGS BRIGHTNESS
--UPDATES 1.3--
WHEN U REACH LEVEL 3 PLATFROM YOU WILL BE ABLE YOU TO EQUIP AND FLY!!
ADDED LEVEL 3
ADDED 200$ COIN
CHANGED THE ECONOMY
ENCREASED THE PLATFORMS DISTANCE BETWEEN ECH OTHER
FIXED LEVEL SYSTEM
FIXED TELEPORT SYSTEM
FIXED SOME MINOR BUGS
MORE VELOCITY/JUMPS SHOPS
--UPDATES v1.2--
ADDED LEVEL SYSTEM
ADDED BUTTON TO TELEPORT TO SPAWN AND ZONES (Info: First you need to unlock the zone for acces tot teleport to)
ADDED PLAYER LIST
ADDED CAMERA ON JOIN
FIXED SOME BUGS
--UPDATES v1.1--
CHANGED FROM 10 COINS TO 50 COINS IN LOBBY
FIXED COINS COLLISION
FIXED TUTORIAL MENU
ADDED KILLZONE UNDER THE LOBBY
ADDED A SPAWN BUTTON WHEN A PLAYER JOINED THE GAME!
MAP -
Zone 1
Zone 2
Zone 3
Zone 4
Zone 5
GAME VERSION NOTES:
Please report all bugs in detail! Constructive feedback and ideas welcome!:
1.7 - Initial release
MEDIA: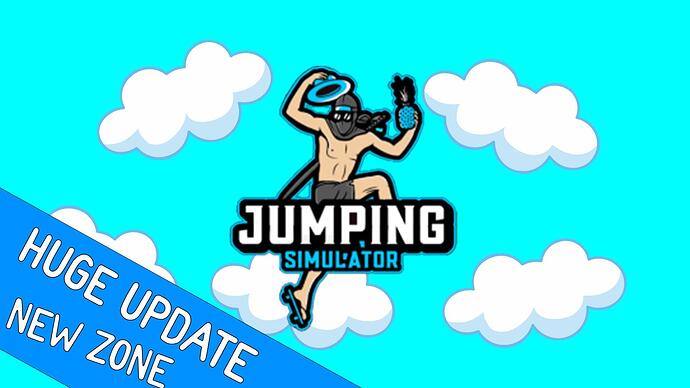 ADDITIONAL INFO:
Respect and you will be respected

!