TEMPLATE NAME: Rubik's Cube
CORE VERSION: Unknown
TEMPLATE VERSION: 1.2.0
TEMPLATE DESCRIPTION:
A Rubik's Cube that can be manipulated by the player. Use 1-9 to manipulate the cube, and L to scramble.
TEMPLATE ROADMAP:
Known Issues:
If the Rubik's Cube intersects with another object, it will cause an exception when manipulating it.
The cube can currently be controlled by any player, regardless of their location.
The instructions UI has some deprecated elements
Planned Features:
Functionality for only allowing players to control the cube when within a certain distance of it
Functionality for determining if the cube has been solved.
Additional polish and bug fixes
TEMPLATE VERSION NOTES:
V1.2.0 - 2.3.2020
-Made the rotation speed a tunable script value.
V1.1.0 - 2.3.2020
-Scaled down the size of the cube.
-Made it so the default position of the cube is no longer in the ground.
-Fixed the pivot point of the cube a bit.
V1.0.0 - 1.17.2020
-Initial release.
MEDIA: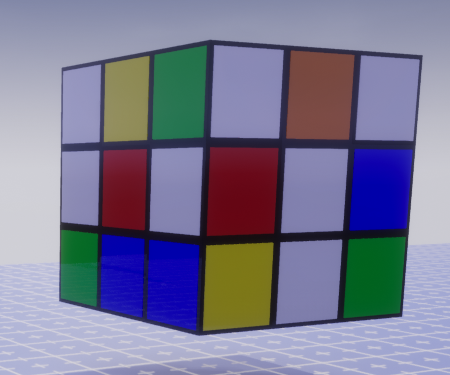 ADDITIONAL INFO:
If you have any requests or issues with this template, please feel free to ping me either here or on Discord