GAME NAME: Guardhouse 5 Deathmatch
PLAYER COUNT: 10
CORE VERSION: 1.9.9
GAME VERSION: 1.0.70
GAME LINK: Guardhouse 5 by Utterly - Core Games
GAME DESCRIPTION:
Classic Free-for-all deathmatch.
First to 10 kills wins the round.
Weekly leader board.
Part of a three map rotation with "Bullets n BBQ" and Carpark Wars
Thanks to the following for their community content:
WaveParadigm - Weapon Spawner
Chaz Scholton (XRStudio) - XRS Scope AIM Module
DanEld - Unequip after respawn script
Team Meta - Victoria screen, Leader boards and weapon models
Buckmonster - Army jeep model
tjarvis - Cargo van model
Flex – Cowboy hat
Togagames – Jump pad script
Jackboyman – Health packs
Ittybitty – Rubber Ducky
PiousLachance - Spider model
GAME ROADMAP:
Create 3 maps for a more varied deathmatch map rotation. - Done
Create a lobby so players can choose to play a specific map or the rotation.
Customize weapons - done
GAME VERSION NOTES:
V1.0.70 - Jul 29, 2021
Enabled daily logon reward. Earn 150 Reward Points each day for playing this game.
Reward limited to once per day..
V1.0.67 - Jul 6, 2021
Fixed player having no head when in Victory screen.
1.0.62 - May 5, 2021
Replaced all weapons with updated versions. New models , damage and effects
Added sprint/stamina
1.0.51 - Apr 30, 2021
Update RotateMaps script to include the new Carpark Wars map
1.0.40 - Apr 17, 2021
Extra Ammo Perk now active
15 day version price 100
Permanent version price 200
1.0.35 - Apr 15, 2021
New default loadout (knife, pistol and automatic rifle)
New limited ammo system - one clip only for all weapons except pistol (and knife ).
Extra Ammo perk coming soon.
New Help UI
1.0.32 - Apr 9, 2021
Fix - weekly leaderboards no longer show historical score after weekly wipe.
New - kills, deaths and KDR now shown in leaderboard
New - UI now shows ammo carried. Prep for upcoming change.
1.0.26 - Mar 31, 2021
Fixed bug with Victory Screen where players face away from camera if using FPV.
Still have bug where head is missing from local player as "ShowHeadToSelf" is not enabled in the First Person Camera Settings.
1.0.23 - Mar 25, 2021
Started fitting out rooms with props.
Removed one of the 3 health packs
Removed ability to switch between first and third person view. Now locked at first person view.
V1.0.20 - Mar 09, 2021
Tweaked ladder script to remove intermittent juddering effect. Player model was being forced to look towards and away from ladder at same time.
Fixed missing wall section.
Tided up some decals showing through walls.
1.0.17 - Mar 04, 2021
Added World Capture image
1.0.16 - Feb 18, 2021
Changes to Guardhouse 5 map:
Increased width of various pathways to improve flow.
Expanded inside area to provide balance with courtyard and exterior space.
Decreased number of health packs.
Changed roof model/design.
1.0.7 - various bug and balancing fixes
1.0.0 - Initial release
MEDIA: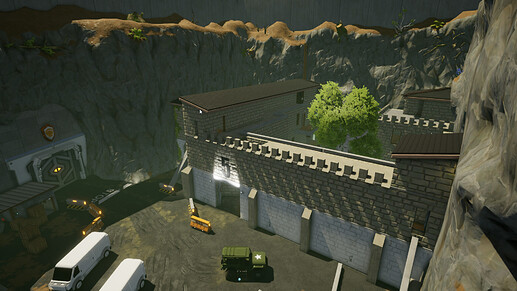 ADDITIONAL INFO: