GAME NAME: Grapple Death Mania (SNIPERS)
PLAYER COUNT: 1-10
CORE VERSION: 1.9.9
GAME VERSION: V1.0.91
GAME LINK: Grapple Death Mania (SNIPERS) by AnunnakiAnubis - Core Games
GAME DESCRIPTION:
*You stir awake in a strange pocket dimension. You are met with strange sights and sounds surrounded by ancient statues and mythic weapons. A golden hand is outstretched through a tear in reality and beckons you and any other helpless souls trapped to show your worth in combat. You are granted one powerful gun outfitted with a grappling hook. In the end, all will be measured by the being behind the golden hand in hopes of escaping.
Logo credits to CJ Hallock
GAME ROADMAP:
-Sniper Added
-Easter Egg update
-New Melee Weapon
-Updated Grapple (increased Distance)
-New Weapon Cosmetics
-Updated Victory Screen
-New Animations
-Map look improved (more improvement)
-Added back double jump
-Grapple Acceleration Improved
-Map Changes
-Tutorial improvements
-Mixed Minor Animation Melee Bug
-Lowered range for Lazor Sword
-Improved UI
-Removed the like ui
-Added more tunnels
-New cosmetics for easter egg (hint to how to obtain)
-New weapon animations
GAME VERSION NOTES:
-Brand New UI for Weapon purchases per game.
1.0.0 - V1.0.91
MEDIA:
*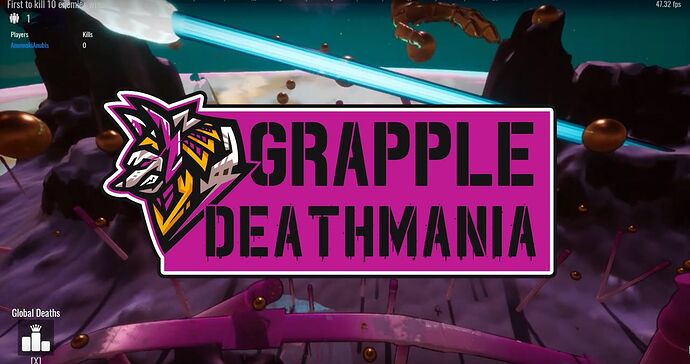 Grapple Death Mania FPS Made on Core Games 2021 (UNOFFICIAL TRAILER) - YouTube
*
ADDITIONAL INFO:
LET ME KNOW WHAT YA THINK IN THE COMMENTS