GAME NAME: Funkalicious' Desert Drive
PLAYER COUNT: 1-5
CORE VERSION: 1.9.9
GAME VERSION: *1.0.2 *
GAME LINK: Funkalicious' - Desert Drive- by Funkalicious - Core Games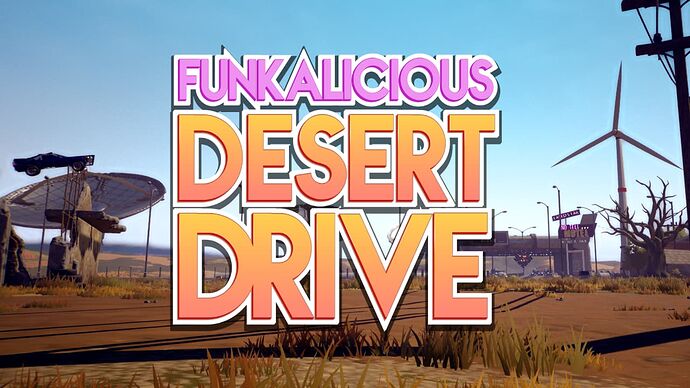 GAME DESCRIPTION:
Hello there community, this was my tracks-levels entry and the winner in that category for the Traffic JAM! Race with your friends through a weird desert in the prize winning vehicles of the competition!
CC Kudos- Thank you!! (In no particular order)
Racing implementation(Thank you for bringing gameplay to this project <3):
Rolok - Racing Framework implementation
Shallow - Powerup system, art and UI
Grimland - Lobby Art
Aggripina - Lobby Art and Thumbnail art <3
Ooccoo - Various Fixes
Car models Kudos! (Thank you for these awesome vehicles!)
Fourd RS200 - Lakwaai
Derby World Championship Roamer - XRSudio (Chaz Scholton)
Save Him Creation - Valarkh
Pimp My Sedan - Nezhul
Assets and scripts
Various assets from the Survival Framework like Poles, Radio towers, Hangars and the RV
The Flying choppers and planes from Sniper Alley
Buck's Mantichopper
Cargo Van by tjarvis
S.W.A.T Van by Matsiixv
Drum Kit by WindfallDrifter (Yeah, if you can believe, awesome Drum Kit tho!!!)
Spawn Seated in Vehicle by RedHotChainsaw
Thank you Shallow for the awesome Vehicle Engine SFX Add-On script!!! Awesome Stuff!
Special thanks to Luke (On Discord) for helping me set up the Spawn Seated Script!!! (I am that silly)
Special thanks to PatrickWalker for giving me a super nice sand in the wind effect!!
GAME ROADMAP:
N/A
GAME VERSION NOTES:
log of your game's version notes, copy from game page. example:
1.0.2 - Racing Framework implemented
ADDITIONAL INFO:
The project is not available for download anymore since the added cars are not mine. If you want the original map, contact me via Discord and I'll give u the original copy. It will only contain my vehicle since, again, I wouldn't think it would be fair for me to share the other vehicles I did not make