Hide and Seek Framework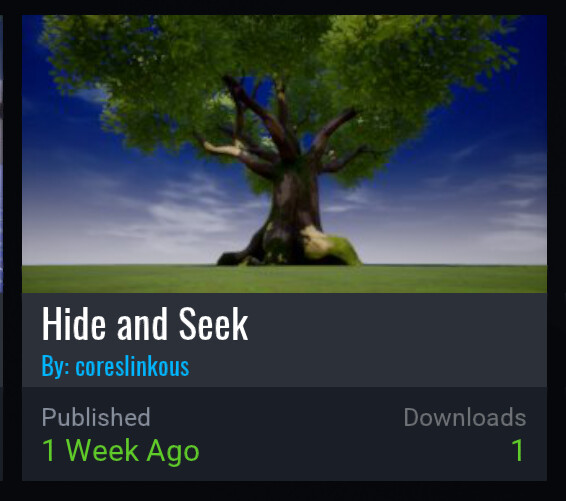 This is a very rudimentary Hide and Seek Framework made in about two hours on CoreLive.
What it includes:
Interactable Trigger for one player to start the game
Ability for seeking player to tag other players by clicking
Handling player disconnects
Round timer
What it does not have:
Any UI, or really feedback for players. This is a barebones system, and it will need more scripting for players to actually know what is going on.
A map. Really, it's just a lonely little tree on a default floor.
Design Doc
Starting the Game
One player decides to start the game
Need at least two players to play

List of the current players

Interactable Trigger to start
No new game can start once one is running
Playing the Game
The Countdown
Seeker can't move
Show a countdown
… What can they see?
Tagging Players
Ending the Game
Hiders Win
Time runs out
Seeker leaves or dies
Seeker Wins
All players are found or disconnect/die
What Happens Next
Game just ends, and someone else can start a new one
How to Find People
How does tagging actually work?
Ability Target to tag players
Situations to Handle
The Seeker Disconnects/Dies
A Hider Disconnects/Dies
A New Player Joins in the Middle of the Game
What Information Do People Need
Who is who, and who you're hiding from
Who has been found, who is still hiding
How long is the round/how much time is left
Time in Countdown (which round phase we're in)
When there aren't enough people to play
Who won
Stretch Goals
Let players opt in and out