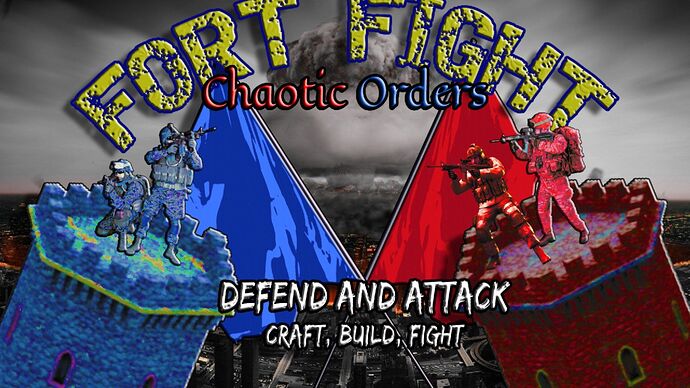 GAME NAME: Fort Fight - Chaotic Orders
PLAYER COUNT: 2-8
CORE VERSION: 1.9.9
GAME VERSION: *1.0.218 *
GAME LINK: Fort Fight - Chaotic Orders by Krysez - Core Games
GAME DESCRIPTION:
*Teams protect their area by using Fort Builders to place blocks and turrets to protect their Flags. However, arming yourselves isn't easy as you need to earn coin and craft items by harvesting the available wood, stone and copper.
Abilities & Features:
• Sprint
• Dodge
• Shield
• Grenades
• 8 Slot Weapons
• Turret Spawn
• Minion Spawn
• Block Builder
• Player Trade
• Cosmetic Shop
Fight NPCs for their Loot and setup fortifications mid-arena to advance your charge. The more players, the better! Join Up in either Team Order or Team Chaos and destroy stuff!
(Note: This is my first game and a work in progress. I have no one to help Test with so Feedback is greatly appreciated. Thanks for trying it out!)*
GAME ROADMAP:
Random Maps, More Weapons, Turret and Minion Upgrades Coming Soon!
GAME VERSION NOTES:
*V1.0.21 - May 18, 2021
Fixed an issue where all NPCs would stop attacking if Fort Wall was destroyed*