GAME NAME: Eternal Obby
PLAYER COUNT: 10, Optimized for all devices.
CORE VERSION: 1.9.9
GAME VERSION: 1.1
GAME LINK: Eternal Obby by LumenDev - Core Games
GAME DESCRIPTION:
Play in a self generated world as you go jumping to reach the highest score possible.
GAME ROADMAP:
More Geometrical Shapes (A lot of more self-generated fun!)
More Environments (Current ambientation is fun, but what about a forest?)
More Difficulty Layers (I'ts always random, but what about after reaching Jump

#100

things start to get... messy?)
Powerups (Hey it's a cool symbol floating out of.... OMG i can do ultra jumps now!)
Player Abilities (Hi neighbour! [Push], Bye neighbour)
GAME VERSION NOTES:
1.1.0 - Initial release
MEDIA: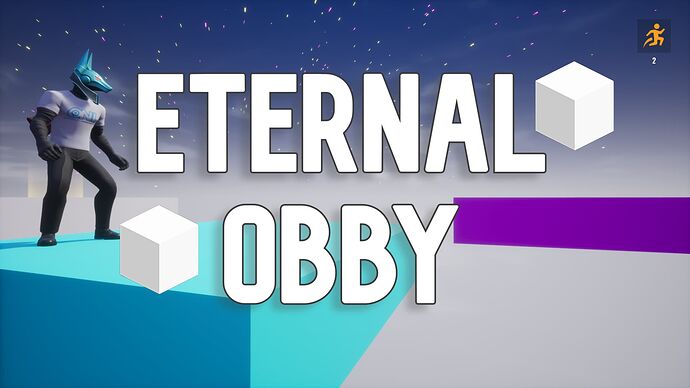 ADDITIONAL INFO:
Invite your friends and watch eachother climb as higher as possible!
Also: I made this title with Love, but as soon as I start getting support for it The Roadmap will arrive sooner than later. Enjoy!

Special Thanks goes to Manticore Games & The Lord Of Code.
Technical information: The game was completely designed and coded from scratch by its publisher (LumenDev)