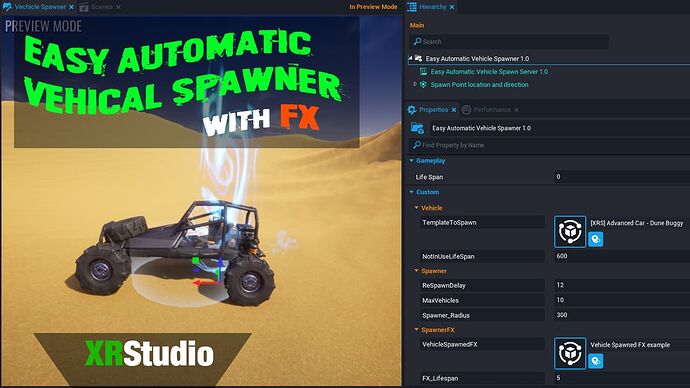 TEMPLATE NAME: Easy Automatic Vehicle Spawner
CORE VERSION: 1.10.3
TEMPLATE VERSION: 1.0.0
TEMPLATE DESCRIPTION:
This is an easy to use basic, yet robust automatic vehicle spawner system.
Comes with an easy-to-use visual positioning and directional guide for setting up spawn points.
It automatically spawns the vehicle template of your choice.
Has a Respawn Delay (time before another vehicle spawns)
You can set the Max number of Vehicles it can have spawned in game/environment.
The lifespan of vehicles when not in use before they are destroyed
Uses Sphere Casting to detect if vehicles or players are within the span radius and prevents vehicles from being spawned on top of either.
Spawner FX template support. Allowing you to add visual and sound FX to vehicle spawns.
It will write the count of the current number of spawned vehicles into
  root:serverUserData.current_number_spawned  <Root Object of the Spawner>

which you can access via your own scripts.
The script itself contains documentation regarding it's use.
My discord contact is
Chaz Scholton (XRStudio)#0990
TEMPLATE ROADMAP:
At the moment there is no planned roadmap. I'm open for feedback, suggestions, comments and ideas.
TEMPLATE VERSION NOTES:
1.0.0 - Initial release (turned loose into the wild on CC for everybody)
ADDITIONAL INFO:
I'm working on trying to create some Easy to use useful systems that novices and advanced builders can work with.
Enjoy and have a Great Game everybody.