TEMPLATE NAME: Drivable Sports Bike
CORE VERSION: 1.10.3
TEMPLATE VERSION: 1.1.0
TEMPLATE DESCRIPTION:
Highly customizable motorcycle controller that features curve-based properties for the performance, handling, sound effects and more. It is fully functional out of the box, simply drag and drop it into your scene!
TEMPLATE ROADMAP:
There is a lot of room for improvement, both design and code-wise.
The motorcycle currently does not support any collision detection other than the default one of a player.
TEMPLATE VERSION NOTES:
1.1.0 - ..
• Fixed an issue where the rider animated mesh would remain hidden to the players who join the game with the motorcycles being driven.
1.0.0 - Initial release
MEDIA: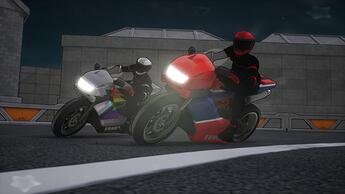 TEST HERE: