TEMPLATE NAME: CustomizableNamePlates+Emojis
CORE VERSION: 1.10.3
TEMPLATE VERSION: 1.0.0
BUG TRACKER: NA
TEMPLATE DESCRIPTION:
*Fully customizable and animatable Nameplates. With Unlimited expansion capablities, to track Any Resource or Private Data. in Text or Progress Bar Format. With Emojis.
This system Can Support up to 99 custom Emojis, Without setting up a Selection system, it will just use a random 1. The readme includes a way to dynamically Set the Selected Emojis.
to use an Emoji press 1,2,3,4, or the arrow keys.
These can be custom set as well, to be anything you want.
--if your using the community content Game project-
--Link: Customizable NamePlates +Emoji by VileShinobi - Core Games
I included a Procedural Map you can use to play around with. After about 30 seconds. Use the button by the stairs to spawn the Enviroment.
You can also Find the CC by searching for VileShinobi in community content.
The cc Includes all the Templates seen in this game as well.*
TEMPLATE ROADMAP:
NA: message me if something is desired, might be able to make it happen for ya.
TEMPLATE VERSION NOTES:
log of your template's version notes example:
1.0.0 - Initial release
MEDIA:
share your screenshots and/or videos from your template here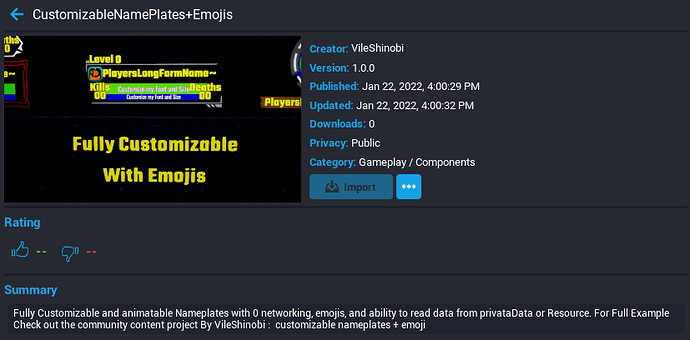 ADDITIONAL INFO:
All additional information here