GAME NAME: Bloody Diamond Arena
PLAYER COUNT: 4
CORE VERSION: 1.9.9
GAME VERSION: 1.0.25
GAME LINK: Bloody Diamond Arena by p0ladio - Core Games
GAME DESCRIPTION:
Bloody Diamond Arena is an ancient castle of the damned bloody cult. Cultists dreamed about the undead army and created bloody diamond, but the experiment wasn't successful. They became slaves of this castle and now have to rise when the diamond call them
You can't win the fight here, enemies will rise again and again, but you still can be the best fighter!
GAME ROADMAP:
new enemies
new weapon
traps
multiplayer
GAME VERSION NOTES:
1.0.7 - Initial release
1.0.15
fixed issues with balance. Added waves counter.
added coop for 4 players
changed the balance, now you need to buy a weapon on the arena
leaderboard now counting kills instead of coins
fixed damage messages for some weapons
improved enemy routes calculation*
fixed crossbow hits
fixed boss behavior
1.0.18
fixed monster's routes problem
decreased starter popup size
1.0.20
fixed kills counter and refreshed leaderboard data
added two-item spawn points
fixed mini skeletons hitbox
added UI round kill counter
fixed potions duplication issue
added reset wave trigger for any kind of accidents
1.0.25
game fully rebalanced. The weapon became stronger, decreased amount of monsters in the first waves
added a button for spawning monsters, be careful with it
weapon moved to the shop near the start point
on the arena now spawns only potions and coins. This system will be improved in the following updates
small prices update
added one more type of monster
MEDIA: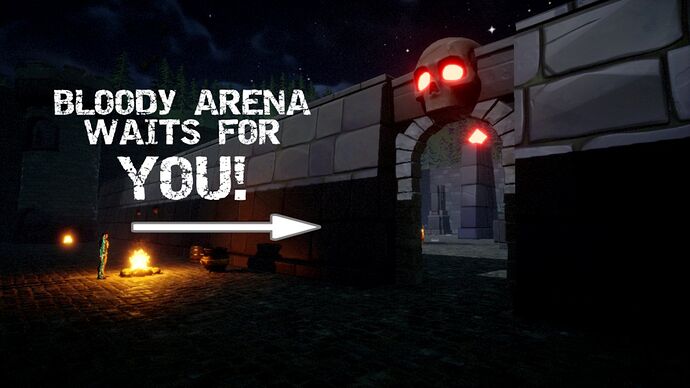 ADDITIONAL INFO:
How to play?
enter to the gate to start the game
endless monster waves will be spawn on the arena
different weapons and health potions will be spawned in the center. You have a dagger by default and it won't be enough
kill monster waves, collect money and buy a weapon
kill more than other players
Attention: if you die your weapon will be lost