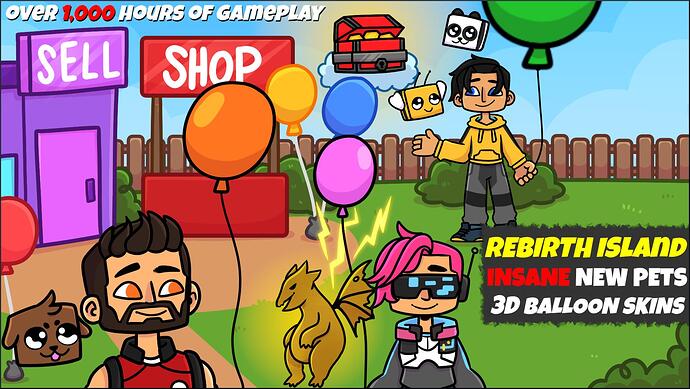 *GAME NAME: Balloon Simulator
*PLAYER COUNT: 10
*GAME VERSION: V1.0.124 - Jun 16, 2021
GAME LINK: ✰ Balloon Simulator ✰ RP by BenEast - Core Games
---
GAME DESCRIPTION:
❱❱❱ Welcome to Balloon Simulator! ❰❰❰
Pump up your balloon, jump, and reach new heights to discover crazy areas like candy land, the sky ocean, and more! Sell your balloons or collect coins to buy upgrades! Hatch pets to speed up your progress!
✰ Discord: romoji.gg
✰ This game was created with a 100% Natural, Aged, and Grassfed Grimland Map
✰ Already played? If you enjoyed the game, a thumbs up would be super supportive & helpful!

---
GAME VERSION NOTES: ❰❰❰ REBIRTH UPDATE ❱❱❱
✪ Rebirth Island is here!!
✪ The new island includes a brand new Rebirth Station, 5 INSANE dragon pets with animations, and access to the most insane $$$ chest yet!
BONUS: Jump Height is now factors in your Rebirth Level, so the higher your level the higher you jump!
✪ Your rebirth level is now displayed next to your name!
✪ BIG Enhancements to Pet Merging
✪ Added Equip/Unequip to pet merging!
✪ Added 5 new dragon pets to Rebirth Island:
● [42%] Avalanche
● [33%] Midnight
● [15%] Greed
● [9%] Phoenix
● [1%] Besuto (9.35x & 9.35x multi)
✪ INTRODUCING: 3D Balloon Skins
✪ The Balloon Skin Station now shows how many skins you have vs how many are available!
✪ The Balloon Skin Station's inventory tab now show the rarity color of skins!
✪ Added the Meteor Dive ability (It's ACTUALLY INSANE) - find it at Dark Star!
✪ Level 100 pets now glow
✪ I've moved the JumpStop ability top Egypt to help newer players!
✪ Fixed a few UI issues caused by Core update (not being able to see your height & level)
✪ Fixed extremely difficult jumps between Dark Star and Deep Sea Grotto.
✪ I've moved Deep Sea Grotto closer to Dark Star to make it less difficult. Rebirth Island is now at 50k height.
✪ Replaced the buggy click size leaderboard with a Rebirth Level leaderboard
✪ Changed "quick buy pet" to "buy & auto merge 50 pets"! This is the easiest way to get what you want, Now.
✪ New Perk: 2x Your Money!
✪ Raised the price of some Balloon Skin categories.
✪ Added 2x Walkspeed to the perk buy menu
---
ADDITIONAL INFO:
Want to give ideas, feedback, and hang with other Balloon Simulator fans? Join the Discord!!