GAME NAME: Angie's Place
PLAYER COUNT: Single-player
CORE VERSION: 1.9.9
GAME VERSION: 1.03 please update
GAME LINK: Angie's Place by joestallings - Core Games
GAME DESCRIPTION:
Welcome to Angie's Place, the hippest jazz club in Midtown! Tonight, you'll get to show off your skills as a mixologist. By the end of the shift, we want to see if you have what it takes to be a full-time member of the Angie's Place family.
GAME ROADMAP:
Multiplayer, additional achievements
GAME VERSION NOTES:
log of your game's version notes, copy from game page. example:
1.0.0 - Initial release
MEDIA: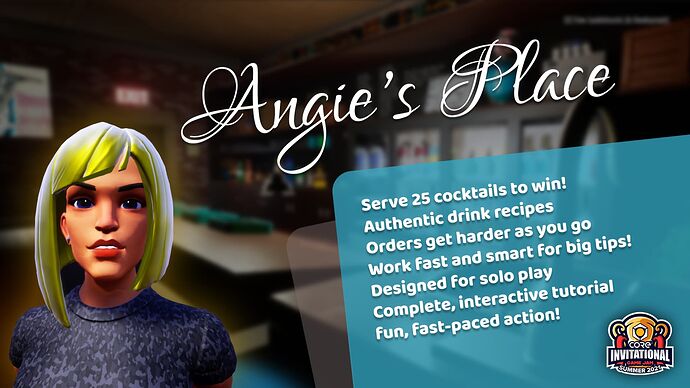 ADDITIONAL INFO:
Dev log: Behind the Scenes at "Angie's Place" - Quadratic Games