Highlights for Version 1.0.142
This week we're focusing on some substantial updates to Core on the web
You can now access game pages without having an account. This means you can show off your Core games to friends who don't have an account yet.
This also means your games now have fancy URL previews on your socials and Discord.
Platform
New Features
The Core front page has a new layout:

Page browsing has been moved from the left side to the top bar.
"Games" is now "Play".
"Character" is now "Customize".
Links for Documentation, Discord, and Feedback have been moved to the "Resources" tab inside Create, along with a new Core Academy link.

Various visual polish to website elements.
Added a "Hide All UI" option to the Gameplay tab of the Options menu that hides all in-game UI until the next relaunch.
Changes
Optimized discovery of projects in saved projects folder. Directories starting with . (for example .git) are ignored, and subfolders of folders containing a Meta.pbt are skipped. This should improve the time it takes to load the Create tab.
Fixes
Fixed several crashes related to objects being destroyed while selected.
Fixed crash when closing editor and beginning mouse drag at the same time.
Fixed a bug where some context menus in the editor would accept text.
Fixed a bug where if you clicked the profile menu widget in the top-right to open the menu and then pressed the profile menu widget again, it would re-open instead of closing.
Fixed bug with doors where they would sometimes become stuck and refuse to open.
Editor: Fixed an issue where object count numbers in the performance panel could display incorrect values.
API
Changes
Updated a number of functions on CoreObject, Player, and Projectile to warn when called with a Transform, Rotation, or Vector3 containing NaN or infinity.
Added additional bounds checking for duration, speed, or distance parameters on several CoreObject functions.
Further improved behavior of single-player preview mode to be more like multiplayer:

A number of functions which return CoreObjects, eg CoreObject:GetChildren(), will no longer return objects which should not be available in the calling context.
Trigger overlap events and CoreObject's child/descendant added/removed events will take into account the context of the object causing the event and not call registered listeners from the opposite context.

Adding warnings when a client script access .serverUserData or a server script accesses .clientUserData. This will become an error in a future release.
Fixes
Fixed childAddedEvent either not being fired at all or being fired twice on clients. (Thanks again, Waffle!)
Fixed crash when converting destroyed objects to string.
Core Content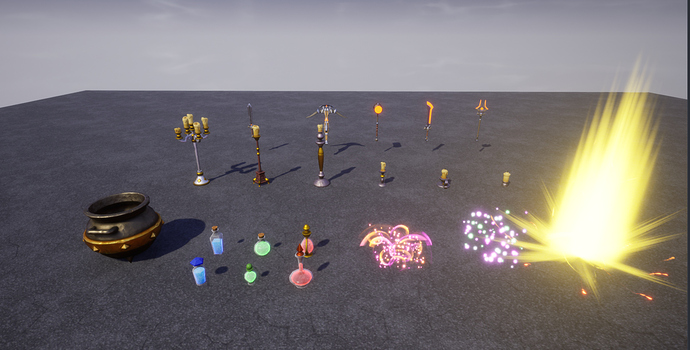 New Features
Added "VO Countdown Female Set 01 SFX" to Core Content > Audio > Voice Over to supplement the current VO Countdown Female assets that do not allow for separate number callouts.
Added new functional melee equipment to Core Content: Advanced Sword, 2-Handed Sword, Hammer and Staff.
Optimized scripts for existing weapon templates in Core Content.
VFX: Added Level Up, Magic Swirl Element and Fairy Dot effects.
Mount SFX will properly emit from appropriate body part/component; (eg, any creature vocalizations will emit from the creature's mouth)
Added Table, Floor and Wall candle holders, 6 potion bottles and a cauldron to the catalog.
Added a unique sound for each mount that will play when mounting and dismounting.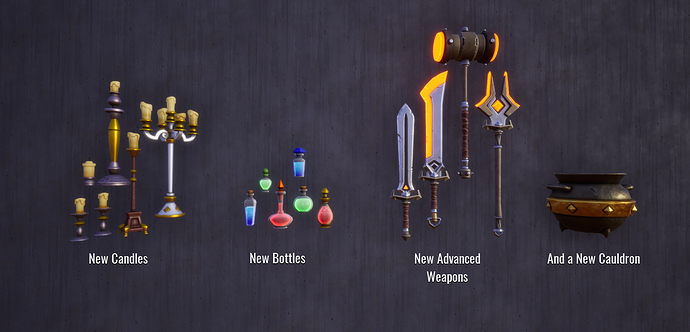 Changes
Slightly lowered Raptor Footstep SFX volume when walking on Plastic material.
Default player footsteps and gear rustle SFX volume will decrease by 70% when crouched.
Sun Halo: Minimum distance has been lowered to 0. Disabled shadow casting for object.
Fixes
Fixed Advanced Hammer and 2-Handed Sword animation stance.
Fixed Advanced Staff pickup trigger label.
Corrected malformed polys on avatar faces.
Fixed an issue in "Drum Kit Set Funk Sampled Instrument 01 SFX" where some drum samples in the type selection were not playing the correct drum sample.
Fixed a typo in one of the drop down type options in "Melee Old School Kung Fu Air Swooshes Set 01 SFX".