TEMPLATE NAME: [Alchemi] Medieval Town
CORE VERSION: 1.10.3
TEMPLATE VERSION: 1.0.0
TEMPLATE DESCRIPTION:
Huzzah!
A medieval town for my esteemed creative peers!
The buildings are prepared to allow for instant success.
They are constructed using the least amount of objects and custom materials,
while retaining their simple charm.
Each structure may be easily modified to allow for interior use.

In the CC template version you will find:
[Alchemi] Medieval House-01
[Alchemi] Medieval House- 02
[Alchemi] Medieval House- 03
[Alchemi] Windmill
[Alchemi] Blacksmith
[Alchemi] Boat House
[Alchemi] Water Wheel & Bridge
[Alchemi] Farm Market Cottage
[Alchemi] Horse Stable
[Alchemi] Forest Gazebo
[Alchemi] OverPass Hall
[Alchemi] Gate between houses
Some Extras:
Lantern Cottage
Wood Sign Round
River Sides
Water
Canal Bottom
Trees-Placed
And a folder named -= Insta Town =- to help you get a budding village on its way.

If you would you consider the community project version, it has all of the above
and some additional starts.
There are two terrains included; one walkable and a basic mountain surround.
The walkable terrain already has materials edited so that you may paint cobble stone, cobblestone/dirt or a leaves/grass mix.
TEMPLATE ROADMAP:
planned additions? yes.
TEMPLATE VERSION NOTES:
1.0.0 - Initial release
MEDIA: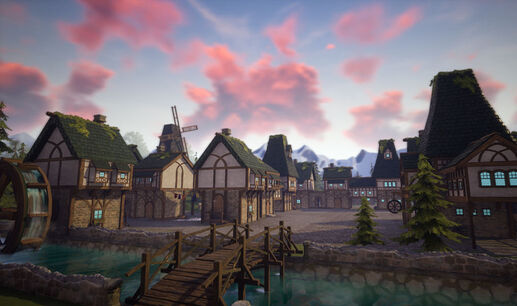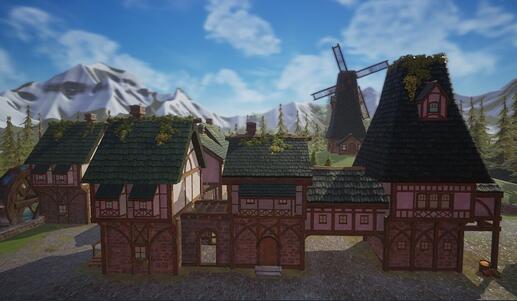 ADDITIONAL INFO:
Thank you for taking time to peek my post! Happy building!