TEMPLATE NAME: Mystical Sky Box
CORE VERSION: 1.0.187
TEMPLATE VERSION: 1.0.0
TEMPLATE DESCRIPTION:
A pretty sky intended for a mystical fantasy world.
TEMPLATE ROADMAP:
Here are the planned updates in order of priority . . .
Daytime sky (day/night cycle)
Post processing effects (with the mystical fantasy theme in mind)
Cute UI indicators for world time (real-time updates with changing icons)
AI that travel through the world's sky (with provided options for birds, bats, or dragons)
Please keep in mind that this community template is a side project and the roadmap will take time that depends on my availability and your demand.
TEMPLATE VERSION NOTES:
1.0.0 -- Initial release of just a night-time sky
MEDIA: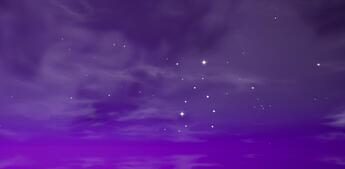 ADDITIONAL INFO:
This is my very first community content template! I'm proud of it, even though it is fairly simple right now, and I'm excited to keep working on it. Thanks for reading!